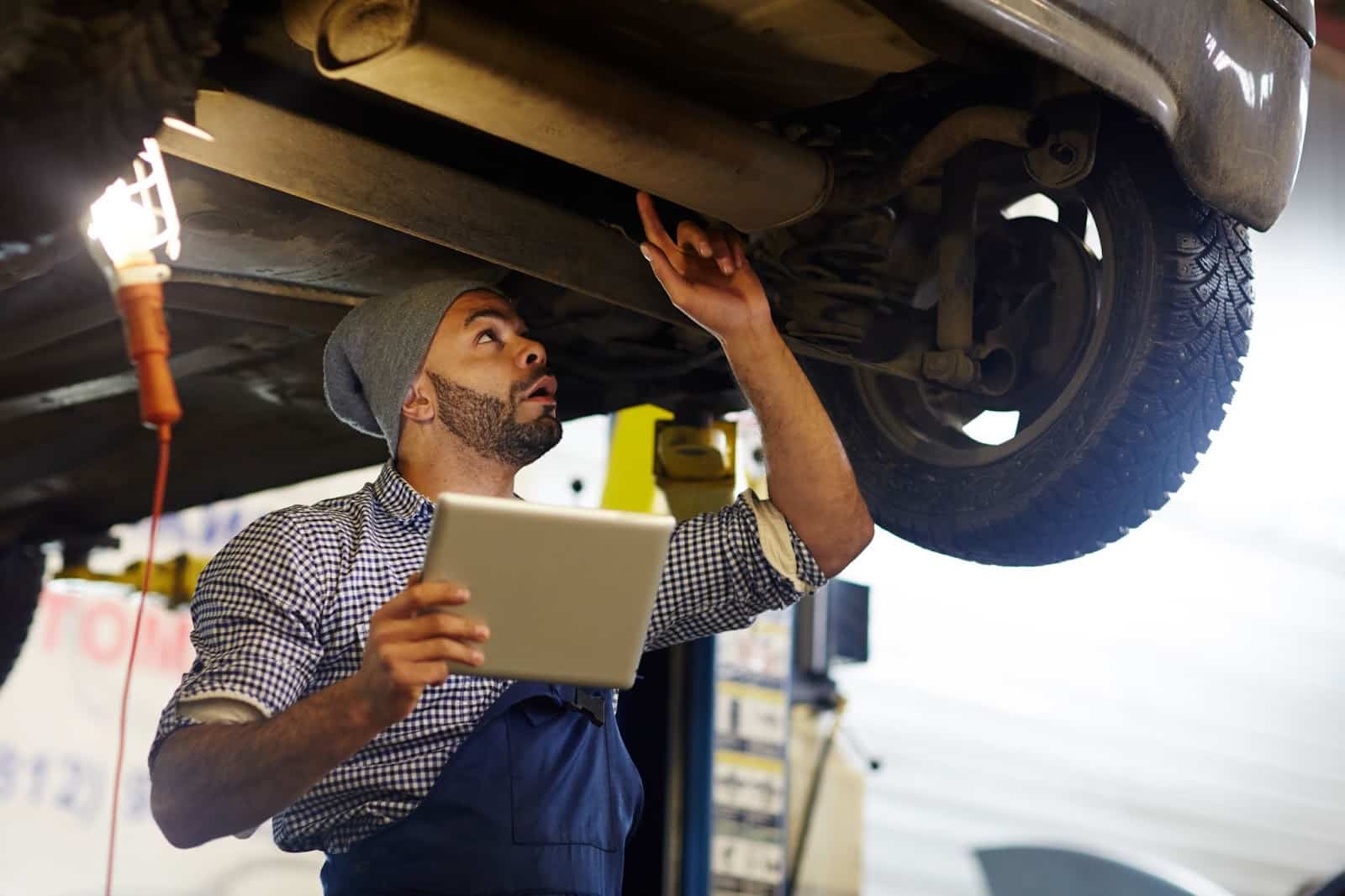 How to create a vehicle inspection form
Vehicle inspections are carried out to ensure that the vehicles being inspected are safe to operate. These processes can take up to two hours on average to complete but may vary depending on the type of vehicle being inspected. It is important to carry out a vehicle inspection both before you buy a car and before you sell it so that you can ensure that it is safe.
What is a vehicle inspection form?
A vehicle inspection form is a type of document that verifies a vehicle's roadworthiness to ensure road safety.
In addition to providing information about a vehicle's condition, it serves as a guide for drivers and qualified mechanics for performing vehicle inspections. Performing pre-start checks, such as checking tire pressure, oil level, brake fluid levels, and battery voltage, helps reduce the risk of accidents and operational downtime.
Choose a digital safety inspection form
How does a vehicle inspection work?
Below is a brief rundown of the various steps that you need to undertake if you want to have a vehicle inspection performed on your car.
Request a form
The first step is to request a provincial vehicle inspection form. A motor vehicle inspection station will be able to issue you the correct document, as a result of which your vehicle will be verified. You need to make sure that you fill out the right form.
Get the vehicle inspected
When you're ready to get your vehicle inspected, you must present it along with the form that you filled out to the inspection facility of the choice. If the vehicle fails the inspection, the facility is required to return the form to you within 30 days. If the vehicle passes the examination, the facility is required by law to complete a record of the inspection. They will then issue a document, known as a 'Record Of Examination.'
If the vehicle failed the test, the inspection center is obligated to provide a copy of the Record of Examination. On the other hand, if the vehicle passed, the inspection facility is responsible for providing a copy of the record and either issuing the relevant inspection certificates or providing you with an official inspection sticker.
Complete repairs that might be required
If your vehicle fails the inspection, it must undergo repair work within 10 days of the initial inspection. Should this requirement not be met, a full inspection will be performed. This includes a visual check of every component of the vehicle. A second inspection must be conducted by a different inspection facility to ensure that the parts are repaired properly. You can have the repairs completed at any location of your choice. However, we recommend contacting several facilities to find out what the cost of the repairs will be.
Why should businesses invest in technology?
What does a vehicle inspection cover?
Vehicle inspection program standards require an examination of various items. Below is a list of things that are commonly checked in order to confirm that a vehicle is safe enough to be on the roads. This is not an exhaustive list. Authorized inspectors (AIs) might check additional aspects of your car to ensure all regulatory standards are met:
Windshield and other glazing: Glass, windows, doors, sunroof
Washer/wipers: Water supply system, drainage system, hoses, pumps, filters, etc.
Horn: Sound emitting device, battery, wiring harness, sound transmission tube
Rearview mirrors: Electrical connection, adjustment mechanism, reflectors
Brakes: Mechanical components, hydraulic brake lines, master cylinder, wheel cylinders
Steering: Wheels, steering linkage, tie rods
Engine: Oils, engine controls, engine structure
How long does a vehicle inspection take?
Vehicle inspections usually take one or two hours for most types of highway vehicles. However, if you require a more thorough check, or you own a larger vehicle or an entire vehicle fleet, the vehicle inspection will take longer. A thorough inspection of a large commercial vehicle can take between three to four hours.
How often should you get your vehicle inspected?
It is recommended that you get your vehicle inspected at least once a year. However, if you want to be on the safe side, a semi-annual inspection will ensure its complete safety. Periodic audits help trade-qualified mechanics detect hidden problems in your car. Although you might get away with a one-time inspection when you get or sell your car, periodic inspections are advised.
Simplify your safety inspections
What should a vehicle inspection form include?
A vehicle inspection checklist template can help you complete inspections efficiently. You can use it to record the general information about a vehicle such as the VIN number, license plate, and miles driven. You should take a picture of the vehicle's exterior condition and then make a detailed list of inspection items, such as brake systems, coupling devices, and engine operations. Below is a list of things that should be included in the inspection. A digital vehicle inspection form makes the form-filling process seamless and convenient.
Engine oil
The dipstick is used to check the level of engine oil in your vehicle. If you see that there are no black specks on the stick, then you know that oil levels are low. You can use the dipstick to check how much oil you need to add to the engine. Make sure you don't overfill the engine because too much oil could cause damage to the engine.
Air pressure
Tires play a vital role in keeping your car safe on the road. You must check air pressure regularly to avoid accidents caused by low air pressure. If you notice any abnormal sounds while driving, it could mean that your tires are underinflated. This can lead to uneven braking power and steering control. If you encounter this issue, you will need to fill the tires up with more air, which is extremely easy.
Lights
There are three types of lights that come into play here – headlights, tail lights, and signal lights. Headlights illuminate the road ahead, while tail lights help other cars see you coming behind. Signal lights let people know the direction in which you're turning. If any of these fail, it could make you less visible to other drivers, thereby putting yourself and others around you in danger.
Horn
A faulty horn can cause problems such as a lack of power, a malfunctioning relay system, or even a loose wire. In some cases, the horn can break down over time. There are many different factors that can contribute to a busted horn, including age, weather conditions, and how often you use the horn.
Windshield and wipers
The wiper blade assembly consists of three parts: the rubber blade, the metal armature, and the spring clip. The rubber blade is attached to the armature, which is held in place by the spring clip. Rubber blades come in different styles and sizes, depending on the vehicle.
They are designed to wipe away rainwater, snowflakes, bugs, bird droppings, etc., off the front surface of the windshield. When it rains abundantly, it's important to make sure that the wiper arms are working properly. If you notice anything out of the ordinary, like a crack in the rubber blade, replace it immediately.
Steering
Mechanics generally look for irregularities in steering systems, steering arms, steering pumps (including fluids) and more. This happens any time an auto mechanic examines your car, because the steering functions are so integral to the running of your vehicle. If you cannot properly steer your car, you simply cannot drive it.
Emission systems
Emission regulations occupy a category of their own. These systems ensure that the vehicle's engine runs effectively and does not produce too much pollution. Some of the emission system components that are checked are the oxygen sensor, exhaust gas recirculation (EGR) valves, throttle position sensors (TPS), catalytic converters, and more. All issues should be corrected as quickly as possible in order to ensure that your vehicle passes inspection.
Brakes
There may be reasons to suspect that there is something wrong with the brakes because of abnormal observations during use:
Your vehicle, or steering wheel, vibrates while braking
Warning lights such as the brake light, ABS lights or traction controls come on
Unusual sounds occur during braking
If your vehicle exhibits any of these signs, we recommended sending it for a thorough diagnostic checkup, as proof of brake inspection will be needed to meet applicable standards. These checks can be done relatively cheaply, and they'll give you a much better understanding of potential safety issues.
Create custom vehicle inspection forms
Filling out a vehicle inspection form to obtain an official record of inspection can be a long and complicated process. In fact, filling out any form is tedious and time consuming. To make these semi-annual vehicle inspections easier, a number of businesses, such as TurboFormZ, have developed an innovative solution to personalize forms.
Our online form creator allows you to quickly and easily create custom forms online. Here are key features of our innovative form builder:
Several types of fields available with validation
Change questions or required fields as often as you like.
Create forms and questionnaires in English and French.
Adapt the appearance of the forms to your image (include a logo, numbering, signatures)
Work or view your forms on the go on a computer, tablet or cell phone
View completed form reports in real time.
Export form data to Excel or PDF.
Schedule a form to automatically open at a specific time.
Program questions or required fields.
Send documents and automatic notifications by email
Create forms to certify your company's compliance with certain obligations in your industry (CNESST, labor standards, tax, COVID, etc.)
Integrate a form into your Mobile Punch time and project manager.