Many work order forms are still written and printed on paper, without the ability to quickly change them. TurboFormZ offers a better alternative for Canadian businesses: digital work order forms!
To save you time when managing work order forms and to measure the performance of organizations, we offer an online and digital work order form to all businesses (small businesses and large enterprises) via a mobile app.

TurboFormZ - Best and Easiest Work order Form Tool
Whether you need an efficient work order form to manage a large fleet, or to have a history of the different jobs and personnel involved and to have a better knowledge of the pieces used, we have the solution for you. 
Following the growing demand from our customers for a management skills measurement solution, we created TurboFormZ: the first work order management form software and fully customizable form and survey generator developed in Quebec.
Improve Project Management and Data Interpretation with our Work Order Form
Make your human resources work easier and improve your recurring or regular work order management and database management with work order forms accessible via mobile apps. TurboFormZ work order management forms optimize the process of data collection, shop evaluations and more.
Our forms are designed to be flexible and fit your needs perfectly. You can use our work order tool to generate and customize inventory management forms and include as many settings as you want!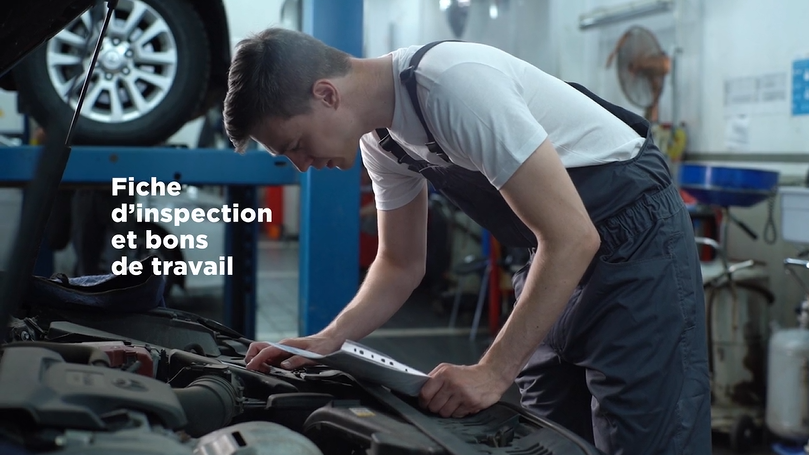 Our work order management form offers various benefits for everyone in your company. Whether you are an employee responsible for completing large work orders or working with a Canadian work order to check inventory via a checklist and have accurate data, or an administrator responsible for creating the entire form and monitoring inventory levels, or for employees in supervisory positions, TurboFormZ's digital tool is perfect for you.
Our Forms Are Simple to Create and Easy to Use
Whether it is for the person who creates and manages the work order forms or the person who fills them out, we have done everything to make our tool as easy to use as possible!
Our forms are built within minutes using drag and drop and immediately ready to be shared with your employees. With different types of entry fields, the option to add mandatory sections, and the ability to create work order forms in both English and French, you can provide the best possible experience for your employees and your human resources. Your work order form users can even electronically sign the documents.
Save Your Employees and HR Time
With TurboFormZ's customizable online forms, there's no need to collect work order management forms - all your inventory management forms are in one place! 
A simple search in the tool will allow you to find specific information, whether it is a maintenance work order, a work order for a part change, a work order for repairs, or for hours worked. You can give access to employees and a field agent depending on their area of expertise. You can also select a default employee for a recurring task. 
Choosing the right work order management tool can save you time at every level, especially during automatic updates!
Saves You Money
Digital and paperless documents mean saving paper. But that's not the only way TurboFormZ can save you money!
All documents related to your efficient work order management are now in one place with our cloud-based solution, and we offer affordable plans for all businesses rather than pay-per-use. This way, administrative staff who create a report and employees all have access to the same information and can access it in real time without slowing down their other tasks.
TurboFormZ Allows You to Standardize Your Data
Nothing is more annoying than forms constantly changing. Paper type, content, font, header. With TurboFormZ's customizable forms, you now have control over these elements when creating documents and generating reports with useful features.
This way you can use the same or similar templates for all your work order forms and all your information will be standardized according to your choices. Even better, TurboFormZ takes care of the validation of the sheets.
You Can Customize It Any Way You Want
The beauty of using TurboFormZ's online work order management forms, aside from the significant cost savings, is that you can customize them any way you want.
You choose the elements that are accessible to the employees who will fill out the forms during the creation phase. Simply drag and drop the elements you need, rename them and you're done!
The Information Is Safe
We take security seriously and are confident that our online platform is highly secure. You can rest assured that your personal information will remain private and that only you will have full access to it.
Your original documents will always be in the cloud, and no matter where you are or how far away you are from them, you will always have easy access to them.
Shareable
Our work order management tool is not only easy to use, secure and environmentally friendly, it is also very versatile and easy to share. 
Each of the forms you create can be exported and become PDF forms. You can then send them by email or using another tool. All of our forms can be edited or viewed using any device, whether it be a computer, phone or tablet.
Easy to Get Help
We have the resources to help you with any problems you may have. If you get stuck creating a form, you can count on our team of representatives and our customer service to help you.
If you have any questions while creating your form, you can call on our technical support service which is there to assist you. It's free!
Ready to get started with TurboFormZ Work Order Forms?
Call us or click start to get started.
Learn More About Online Work Order Forms
What Are the Benefits of Using Work Order Management Forms?
The use of inventory management software is the ideal solution to facilitate maintenance operations and determine the unit price of each part used in a specific task regardless of the field where it takes place. 
Perfect for any type of business, including a technology company, TurboFormZ allows you to have a major impact on business growth, and to better account for repair and maintenance operations and optimize management functions for your business.
Fleet maintenance requires work orders. Improving your company's work order management process will significantly improve the efficiency of your vehicle maintenance. Maintenance managers should consider different ways to optimize work order management within their company.
Let us describe the management process and show you what a great mechanical work order template should include and we'll also look at the importance of having work order management software to digitize it all.
What Is a Mechanical Work Order?
A mechanical work order must include the following information: 
The unit number: on which equipment will the work be performed?

Type of work order: is it an external or internal work order?

The trade code: which trade is doing the work?

Employee name: who is performing this work?

The task code: what is the task performed?

The VMRS codes: What are the reason and repair codes?

Specific branch name: Which branch does the unit belong to?

Detailed problem description: What exactly happened to the unit?

Summary of task and work: What did the employee do on the unit in question?

Dates and/or time: when the work order was created and when it was closed.

Parts used: what parts did the employee use (include serial number, reservation number and transaction number if applicable)

Documents included: all important supporting documents should be included with the work order.

Detailed cost list: What was the exact cost of labor? Parts?

Billing address: who should be billed for the repair or maintenance of the equipment?
What Information Should be Included on a Mechanical Work Order?
A paper-based work order management system should be of the past. Imagine your mechanics manually entering all the information, your fleet manager having to try to figure out what the mechanic entered (was it a 4 or a 9?) and then having to fill out the work order after the operation is complete. This can become a nightmare if you need to quickly find information related to billing, a trade code or a task code for the management team.
To be truly thorough, you need a good work order management software in place to properly and efficiently manage those work orders. A great software system will not only allow you to organize your work orders, but can also automate processes and take your safety or maintenance management to the next level. Implementing a great system can help your company decrease downtime, lower maintenance and repair costs for your fleet, and increase overall efficiency.
Work orders are the foundation of good maintenance management for your fleet. If they are well managed, then they bring stability, structure and efficiency to your group. Having a good work order management system and what it includes will make it easier to create a preventive maintenance program, for example.
Finding the right software to help you manage your work orders is imperative to help you and your group become profitable as quickly as possible. With the right tools in place, your maintenance will give your company an edge over your competitors who have not yet made the transition to a digital, automated system for managing their mechanical work orders and are missing out on good project management.
Do You Have Other Forms to Create for Your Business?
TurboFormZ specializes in customizable forms for businesses of all kinds. Whether it's for equipment or vehicle inspections, safety inspections or checklists, gain productivity with our custom forms!